Product Overview
DC inverter power supply: This product is pure DC inverter power supply, output sine wave, AC output power 300-6000W (can be customized according to needs).
Power range: rated power 300W-6000W (customized according to needs);
Voltage range: 220V (380V);
Product characteristics
With DC output interface, can be connected to DC charging device.
With DC charging function to support fast charging and faster charging.
With USB interface, mobile devices can be connected.
Have intelligent protection functions.
In case of no use, you can use USB socket mode, plug and play, without cumbersome installation steps.
Working principle: the 220V AC power in the power supply is converted into DC power through the inverter and then transmitted to digital products.
Technical characteristics
Power range: 300W-6000W (customizable)
Input voltage: AC220V/AC110V/AC (110V320mA)
Output voltage: DC12V/DC24V/DC36V/DC48V/DC60V
Input frequency: 50HZ
Adjustable range of output voltage and current: 1-70A (customized according to needs)
Input: 12V (can also be customized 12V), input voltage is sine wave, excluding peak voltage and surge, output harmonic distortion is less than 0.5%
Output power: 300W-6000W (customizable)
Input overvoltage protection, overload protection, overheat protection and other protection functions
Product advantage
Small volume, light weight, small power, easy to carry and convenient to use.
Adopting high-efficiency inverter circuit and inverter system technology, which can output pure sine wave alternating current with high power factor.
Adopting the most advanced intelligent control technology and high quality components and parts to make the products more stable and reliable.
Having multiple protection functions against lightning stroke, over current, over voltage, short circuit, etc.
It has the function of stepless frequency conversion, and can automatically adjust the output waveform according to the load.
Various output modes may be realized: the city electricity mode (AC), the solar energy mode (DC) or the battery charging mode (DC).
DC power supply mode is adopted for more stable output.
Wide output voltage range: 220V ± 10% ~ + 20V.
Application Field
On-board electric appliances: on-board refrigerator, on-board heater, and car battery charging;
Outdoor portable: tent power supply, mobile power supply, camping car;
Household emergency: can be used to power lighting equipment, charge mobile phones, provide electrical energy for household appliances, also can be used to power power power tools;
office premises: power consumption of outdoor office equipment such as computers, printers and electric fans;
 Technical Parameters
Output power of the inverter: 300 W-100kW (customized according to needs).
Input voltage: AC220V (AC380V/AC110V).
Output waveform: pure sine wave.
Frequency: 50 Hz or 60 Hz
Power factor: ≥ 0.9
Control mode of inverter: all-digital control mode.
The input terminal of the inverter adopts advanced high-speed integrated circuit, and the internal circuit adopts advanced adaptive control algorithm, which has the characteristics of fast response, high reliability and good stability.
The inverter adopts full digital control, which completely eliminates the drawbacks of traditional analog control and truly achieves digital control.
The inverter shall have perfect protection measures such as over current, over load and short circuit, which make the operation of the equipment more safe and reliable.
The working temperature of the inverter shall be – 10 ℃ – 50 ℃.
The inverter has DC voltage protection function, over-voltage protection function and over-current protection function.
Using environment: temperature 0 ~ 40 ℃, humidity ≤ 85%
Output protection: over voltage, over current, over load, under voltage protection;
Control mode: digital intelligent control with powerful functions and convenient operation;
Charging method: alternating current charging and direct current charging.
Input interface: AC input, DC input;
Charging capacity: 300W-6000W (customized as needed);
Output voltage range: ± 10% ~ ± 25% (customized by user according to needs)
Output frequency range: 50Hz or 60Hz;
Working environment temperature: -10 ℃ ~ 50 ℃;
Protection grade: IP65;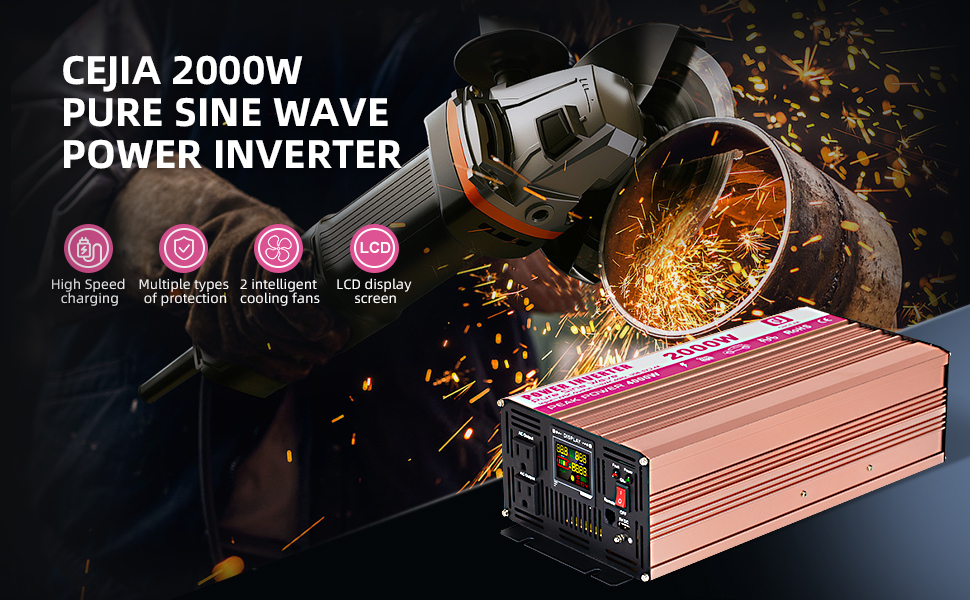 ---
Post time: Mar-15-2023